"My future goals in the industry are to continue learning and pushing my boundaries."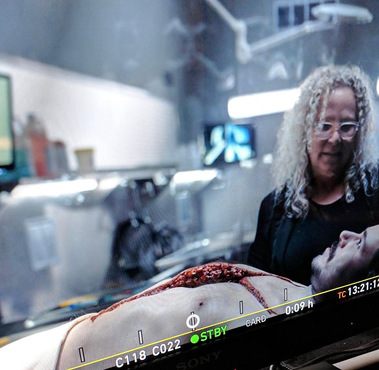 〰️ In most estimations that is a given for Traci, as those who have worked with her know, her boundaries are limitless.
Eclectic, creative, multifaceted and flexible. Like Toronto, the diverse metropolis she thrives in, Traci Loader has brought diversity, experience, professionalism and talent to each of her areas of expertise over the last three decades.
Her education is endless as trends, technique and technology constantly change. As a much sought after artist, Traci's in-depth knowledge and understanding of the industry has enabled her to carve a niche for herself in film and television. Working as Head of the Makeup Department, doing both straight makeup and special makeup effects, both in Toronto as well as nationally and internationally.
Always one to give back to the industry and a people person at heart, it is that in-depth knowledge that Traci now shares with others. Her goals are focused -- to work with great people and teams. To both learn and share.

Traci is a member of I.A.T.S.E. 873


Lakewood (feature) as Department Head/Personal to Naomi Watts. Directed by Phillip Noyce.
The Lighthouse (feature) in Cape Forchu and Halifax, Nova Scotia as Department Head. Starring Robert Pattinson and Willem Dafoe. Directed by Robert Eggers.
Monkey King 2 and 3 (features) in Wuxi, China. As part of LA based Makeup Effects team Smith FX. Directed by Pou-Soi Cheang.
Traci was also the Head Makeup Artist for Hermès Canada celebrates Canada 150 Event.